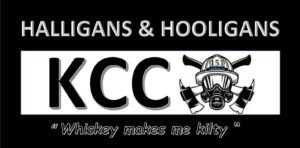 It's time for the second annual Halligans and Hooligans event to benefit the Jason C. Grimaldi Fund!
This year's event includes a Bike Run and live music from The Captain's Mast, a Classic Rock band from the Youngstown area.
This year the party will be at 5 PM Sept. 30 at O'Donolds in Austintown. Watch for a great live music line up, and new this year– a bike run twisting through Mahoning, Trumbull and Columbiana counties!
Mark your calendars and get ready to join the kilted fun!
Bike Run info: Route Stops include Faces Lounge in Newton Falls, BB Rooners in Salem, Stagecoach Restaurant and Lounge in North Lima and Wylle E. Coyote's in Austintown. We'll end up at O'Donolds in Austintown where we'll really get the party started!
DETAILS:
Jason C. Grimaldi Fund
Benefit and Poker run
Date: September 30, 2018
Starts and Ends at O'Donolds Austintown
Registration starts at 9 am
First bike out at 11 am, last bike in at 5pm.
– Best and worst hands win a prize, chance to buy an extra card at the end
– Food, spirit, entertainment and basket auction at end of run.
$15.00 Driver/ $10.00 passenger
Now, his family and friends are coming together to honor his life and carry on in the causes close to his heart. The Jason C. Grimaldi Fund  will support the causes Jason held dear: the local arts, family activities and science education for young people.
ABOUT THE FUND:
The Jason C. Grimaldi Fund is a dedicated fund of the Anthony V. Spano Foundation. This Fund was created to honor a brilliant, vibrant and larger than life father, firefighter and friend was taken from us without warning. Click Here for more info on the fund.
###
The Anthony V. Spano Foundation is a 501(c)(3) nonprofit organization whose mission is to positively affect the lives of individuals and/or families in need by providing, both directly and through qualifying institutions, the financial assistance necessary for them to enjoy a healthier, sustainable quality of life.