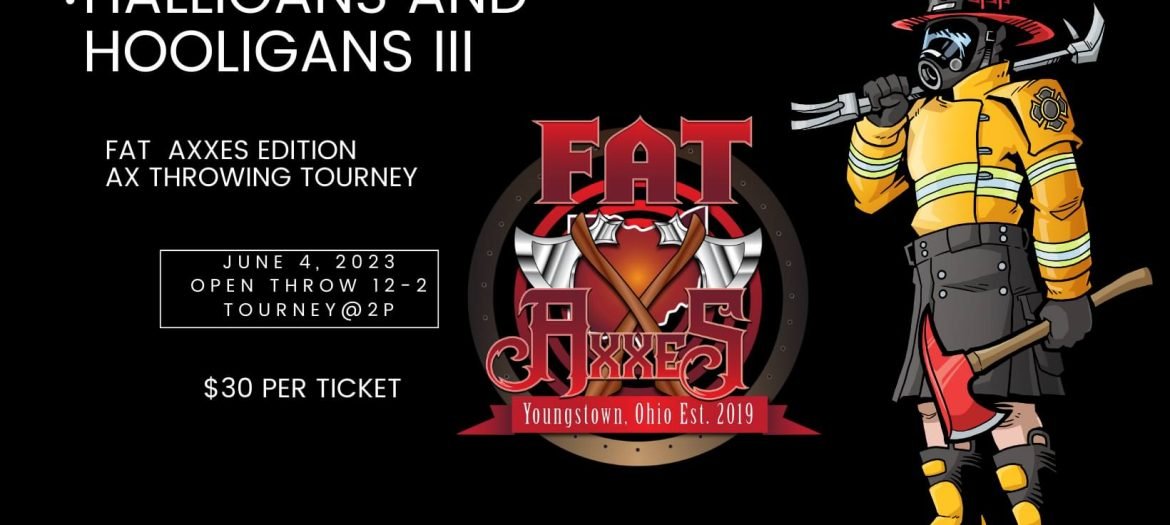 HALLIGANS & HOOLIGANS III – FAT AXXES EDITION
Organized By:
Spano Foundation
Started:
4 June 2023 at 12:00 pm
Ending:
4 June 2023 at 4:00 pm
HALLIGANS & HOOLIGANS III – FAT AXXES EDITION
Benefits the Jason C. Grimaldi Fund
(Niles, OH) This year's event combines our usual shenanigans – plus sharp objects. What could possibly go wrong? We started the Jason C. Grimaldi Fund in 2017 to honor an amazing person – Jason Grimaldi. A father, volunteer firefighter, lover of kilts, a good time, and community service, we started the fund as a way to carry forward the ideals he believed in. We support volunteer firefighters, the arts and children's STEM education.
The Grimaldi Fund is SO CLOSE to being able to award our first scholarships, which will go to cover the cost of a basic firefighter course to those who commit to volunteer firefighter service.
This year the party is at Fat Axxes, 2790 Robbins Ave., Niles, OH 44446. Open throw starts at noon; the tournament starts at 2 PM. A $30 ticket buys entry to the tournament, light refreshments, and one drink at the bar. We'll also have a basket raffle and a 50/50, as well as cash prizes for the tournament.
Mark your calendars and get ready to join the kilted fun!
DETAILS:
Jason C. Grimaldi Fund • Benefit Ax Tournament
Date: June 4, 2023
Cost: $30
Open Throw: Noon-2 PM
Tournament at 2 PM
Cash Prizes • Refreshments • 50/50 • Basket Raffle
ABOUT THE FUND:
The Jason C. Grimaldi Fund is a fund under the umbrella of the Anthony V. Spano Foundation. This Fund was created to honor a brilliant, vibrant, and larger-than-life father, firefighter and friend who was taken from us without warning.
Now, his family and friends are coming together to honor his life and carry on in the causes close to his heart. The Jason C. Grimaldi Fund will support the causes Jason held dear: the local arts, family activities, and science education for young people.
Nobody Can Do Everything, Everyone Can Do Something